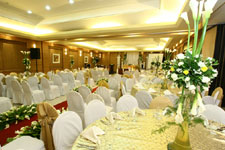 Normally, couples choose their wedding reception venue based on its proximity to their ceremony venue.
If they are getting married in Manila City, popular choices would be Nuestra Senora de Guia, popularly known as Ermita Church, The Our Lady of Remedies Parish (Malate Catholic Church), and St. Pancratius Chapel (Paco Park Church). Of course, there are also San Agustin Church and the Manila Cathedral in Intramuros area.
Next consideration would be based on their wedding reception expectations and budget.
Is it really possible to have a wedding venue that is easily accessible, elegant and yet affordable especially in the bustling, commercial area that is Manila?
Read more to find out
...