We got the ff. email from newlywed Darrell and Timmy last August 28: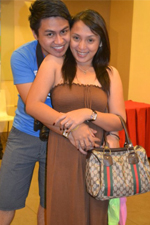 Darrell and Timmy
Hi! Good day! We are Darrell and Timmy, and we just want to share with you our love story. How we started, how we lost and found again each other, how we planned our big day, and how typhoon falcon almost ruined our wedding. We know that everybody has their own love stories to tell, more interesting and more romantic than ours. But we are sharing this to you for you to share it with your readers and followers too because you'll never know; maybe other people may learn from it.
- Darrell and Timmy
Darrell and Timmy have been avid visitors of www.kasal.com (check out their wedding announcement in Kasal.com) and we are glad to learn how Kasal.com has helped them in their wedding preparations. Now we are honored to share their love story to everybody, beautifully written in their own words.
We hope their story will not only inspire you but will also encourage you to share your own story to our wedding community. As they aptly shared, "you'll never know; maybe other people may learn from it."
Read Darrell Rey and Fatima Zamora Wedding....